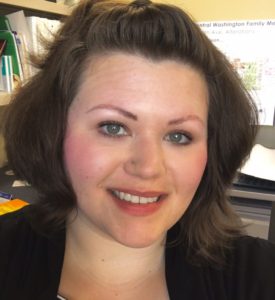 Katherine Shaw Joins Central WA as its New Clinic Manager
YAKIMA, WA – Community Health of Central Washington, is pleased to announce that it has added Katherine Shaw as its new clinic manager at their Central Washington Family Medicine Clinic, located at 1806 West Lincoln Ave, Yakima.
"We are very proud to be able to continuously recruit highly trained and dedicated staff to our clinics," says Mike Maples, MD, CEO, Community Health of Central WA.  "Katherine has great leadership skills and is committed to patient care and making the clinic environment positive for caregivers and patients alike."
Shaw holds Bachelor of Arts degree in Sociology from Western Washington University, and Master's of Arts degree in Cultural Studies from University of Washington, both degrees are with a concentration in domestic violence intervention in legal and clinical settings.  Shaw was previously an administrator for Downtown Public Health Center, Community Health Services, Public Health- Seattle and King County, gaining experience in human resources and clinic administration.
As clinic manager, Shaw manages the daily structure of clinic work life, and is responsible for hiring and training support staff.  In addition, she is in charge for preparing budgets, overseeing billing practices, oversight of clinical equipment and supplies, and serves as liaison for clinic staff and management.
About Community Health of Central Washington
Community Health of Central Washington (CHCW) is a nonprofit organization providing high quality, affordable primary health care, dental and mental health services to area residents.  CHCW provides services to more than 25,000 people annually through six locations, without regard to income and ability to pay.  Headquartered in Yakima, CHCW centrally provides supervision, technical support, fiscal services, planning and human resources for the following sites and services: Central Washington Family Medicine, Central Washington Family Residency Program, Senior and Residential Care (SRCare), Senior Smiles, Yakima Pediatrics, Community Health of Central Washington – Ellensburg, Ellensburg Dental Clinic, Naches Medical Clinic, and Highland Clinic.  For more information, visit www.chcw.org.