Dr. Micahlyn Powers, MD, named as Clinic's Site Director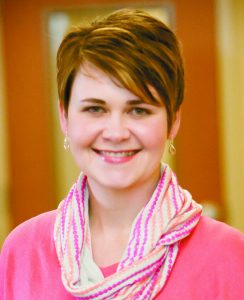 YAKIMA, WA – Community Health of Central Washington (CHCW) – Ellensburg Clinic is pleased to announce that it has named Dr. Micahlyn Powers, MD, as its Site Director.  Powers is also a family care physician at the clinic.
"Dr. Powers is an accomplished physician and we are pleased to promote her to the site director of the Ellensburg Clinic," says Dr. Mike Maples, MD, CEO, Community Health of Central WA.  "Her commitment to providing quality healthcare to rural communities and strong knowledge base serves our community and patients well."
Dr. Powers received her medical degree from the University of Washington School of Medicine and completed family medicine residency in Boise, Idaho.  Dr. Powers joined CHCW in 2013 after completing her residency and states, "I strongly believe in the mission of CHCW, which is to provide service to our community and educate the future generation of family physicians."  She most recently was awarded and completed a 1 year Faculty Development Fellowship at the University of Washington Family Medicine Residency Network. During her fellowship, she designed and implemented an innovative group medical visit program for patients with Medicare insurance.
As a family practice physician, Powers offers comprehensive medical care for the entire family, including preventive medicine, behavioral coaching, obstetrics, pediatrics, and procedures at Ellensburg Clinic.  In her new role as site director, she is responsible for developing, implementing, and evaluating the medical practices and delivery to patients, sharing in the administrative functions that directly impact medical services and collaborating with the management team in the overall planning and budget activities.
Community Health of Central WA's Ellensburg Clinic is located at 521 East Mountain View Ave, Ellensburg.  In addition to the Ellensburg Clinic, Community Health of Central WA has a network of health care clinics and programs in Yakima, Ellensburg and Naches areas in Central Washington and has a staff of 300 employees.
About Community Health of Central Washington
Community Health of Central Washington (CHCW) is a nonprofit organization providing high quality, affordable primary health care, dental and mental health services to area residents.  CHCW provides services to more than 25,000 people annually through six locations, without regard to income and ability to pay.  Headquartered in Yakima, CHCW centrally provides supervision, technical support, fiscal services, planning and human resources for the following sites and services: Central Washington Family Medicine, Central Washington Family Residency Program, Senior and Residential Care (SRCare), Senior Smiles, Yakima Pediatrics, Community Health of Central Washington – Ellensburg, Ellensburg Dental Clinic, Naches Medical Clinic, and Highland Clinic.  For more information, visit www.chcw.org.