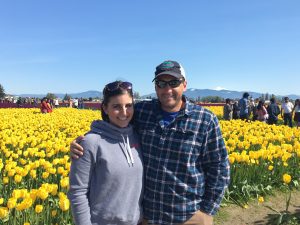 Medical School: Pacific Northwest University of Health Science, Yakima, WA
Philosophy of Care: I enjoy taking the time to talk with patients and learn about their unique life circumstances. I find that this best helps me to treat them as a whole and to consider factors that may play important roles in their health and wellness. When you know more about your patients, not solely their health conditions, you are better able to serve them.
Medical Interests: Rural family medicine, obstetrics, preventative medicine
What drew you to CWFMR and/or Yakima: I am from a rural town in Central WA, Royal City (about 1hr away from Yakima), and I was drawn to CWFMR. I am excited to train in a location that will prepare me well for my future practice in rural medicine. I intend to stay in Central WA.
Personal Interest / Hobbies: Gardening, snuggling my fur babies (2 cats/2 dogs), bike riding, fishing, exploring new places and rockhounding with my husband and dog Max.