Are You a Good Candidate for Invisalign®?
Over 14 million people have used Invisalign® clear aligners to achieve straighter smiles
Many choose Invisalign® liners over braces because they provide a more convenient experience. There are no wires, and you can even remove them to eat, drink, brush and floss. The results are also often quicker.
Is Invisalign® right for you?
For those looking for a virtually invisible method for fixing teeth-straightening and bite issues, Invisalign® is a great option. There are factors that make some people better candidates than others, though.
There is no age limit or ideal age for an Invisalign® candidate. The treatment works as well as the patient's commitment, however. Although many patients with Invisalign® choose the solution because of their busy lifestyle, they still must care for their liner, and wear it enough. The most ideal candidate is someone who is committed to fixing their smile and properly keeping up with treatment.
If you're currently wearing braces, but want to switch, you might be able to. Some dentists use a combination of the two. Do you have veneers or crowns? You may not be counted out. Ask your dentist if you are still eligible for Invisalign®. If you have bridgework on several teeth, however, clear aligners may not be effective.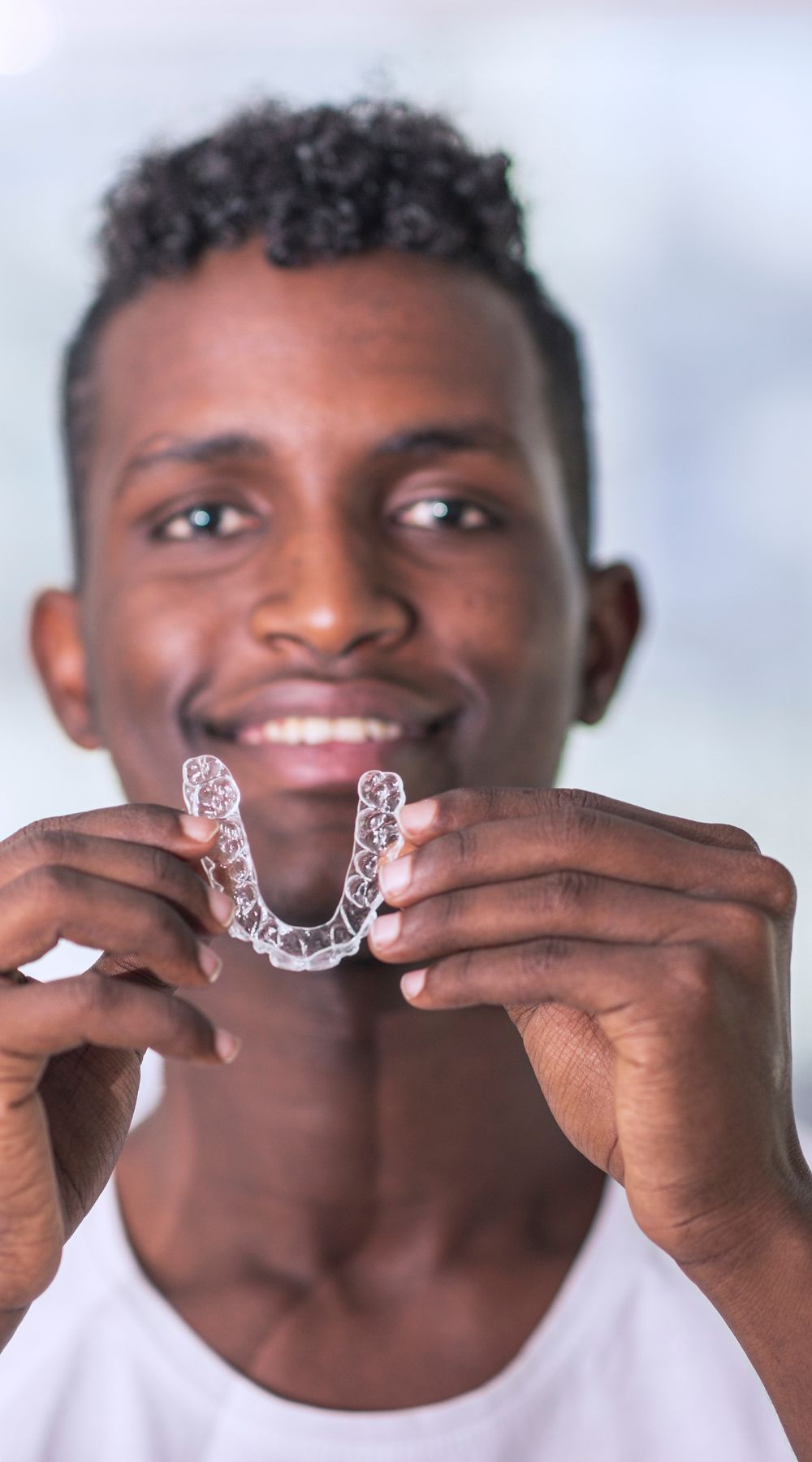 How does Invisalign® work?
During the process of your treatment, you will wear a series of clear, removable aligners that gradually straighten your teeth. The liners that you wear closer to the beginning of your treatment resemble your current teeth more, and every liner gently moves your teeth to the goal straightness.
Depending on the severity of your case, treatment could take anywhere from 6 months to years. You'll start seeing results within weeks, however. Our doctors are Invisalign® trained and will be with you every step of the way to monitor your progress and ensure your aligners fit correctly. 
Below are the steps involved in the process:
The first appointment: set your goal
Your doctor will use the iTero Element® scanner to quickly take a precise 3D digital scan of your teeth. They will then analyze your case, and determine how your teeth must be moved to achieve a straight smile. They will then create a custom treatment plan.
Check-in with your dentist
This is now a collaborative process between you and your dentist. You will schedule face-to-face check-ups every few weeks to check your progress and pick up the next batch of aligners.
Time to wear your aligners
Your aligners will be ordered and when they're ready, you can pick them up. In this appointment,  you will try on your liner to make sure that they're just right. Your dentist will then go over the process with you again, and then you're off to begin your journey for a straighter smile.
Tips for Starting Invisalign® Treatment
You play a crucial role in your treatment! This video highlights the key things you need to know as you get started with your Invisalign® treatment.

Better Dentistry is Our Mission
521 East Mountain View Ave Ellensburg, WA 98926
Monday-Friday 7a-5:30p Saturday 7a-3:30p