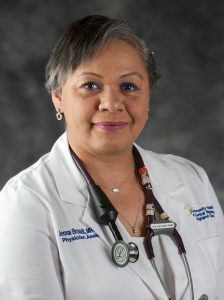 Education:  Broadt received her undergraduate degree in Exercise Science from The University of Texas at Rio Grande Valley (Brownsville) in 2010.  She completed her Masters of Physician Assistant Studies in 2014 at the University of Texas Rio Grande Valley in Edinburg.
Experience:  PA Broadt has experience in treating all ages, with a special place in her heart for those on the ends of the age spectrum.  She has been working in Internal Medicine, Geriatrics, Family Medicine, and Acute Care Rehabilitation.
She was also the consulting and treating tuberculosis physician for Region 11 Texas and nineteen counties.  She also served as the consulting physician for the TB Binational program, "Grupo Sin Fronteras." Jennifer is first and foremost a patient advocate. She treats patients with dignity and respect.
Hobbies:  Jenna is happily married and a mother of three boys, ages 16, 13, and 6 years.  She also has three dogs & two cats and enjoys time with her family discovering WA state on hikes, dancing as a ZIN Zumba instructor, and gardening afuera con las rosas. 
Why do you want to work for CHCW?  I am so proud of the experience and tradition of caring for the community that CHCW brings to the table.  In my opinion, this is a top tier example of medical community success and high character in public health.