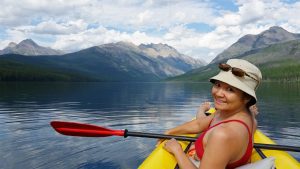 Medical School:
Pacific Northwest University, College of Osteopathic Medicine, Yakima, WA
Philosophy of Care:
'Service is joy!' My goal, as a competent, compassionate and humanistic primary care physician, is to provide patient-/community-centric, evidence-based care to people from all walks of life. By combining my skills in technology and my research background, I strive to accurately diagnose illness, emphasize prevention, actively engage patients in their own wellness, coordinate care with diverse providers of the team, and treat every patient with dignity. The art of medicine lies in asking the right questions and taking the time to listen to the answers to partner with patients in a way that respects their views while guiding them to make informed choices. I am committed to contributing to community-based medicine in innovative ways for better system efficiency, enhanced care, and improved patient satisfaction. Moreover, my continued training in osteopathic manipulative medicine allows me to apply the healing power of touch for treatment of somatic dysfunction and pain management. Medicine is one of the rare professions that allows me to use my mind, body and soul to make a positive impact on people's lives. I choose family medicine since no other specialty shares the genuine patient-physician relationship that develops over years of caring for generations of families.
Medical Interests:
Full-scope primary care, preventive medicine, osteopathic manipulation treatment (OMT), integrative medicine, mental wellness, public health, underserved populations, shared / group medical appointments
What drew you to CWFMR and/or Yakima:
I attended the medical school in Yakima and feel a deep passion to make a positive contribution to the rural and medically underserved populations of the Pacific Northwest. I am grateful to continue my training in Yakima at Central Washington Family Medicine Residency Program. With its dually accredited, unopposed community-based program, team camaraderie, passionate attending physicians, integrated behavioral health, pharmacy and social work services, collaborative spirit, and ample volunteer opportunities, CWFMR will provide me a strong foundation and rich experience to develop into a full-scope primary care physician. Moreover, my husband and I appreciate the quality of life here—the natural beauty, friendly people, sense of community, decreased traffic, ample outdoors opportunities, affordability, and overall reduced level of stress.
Personal Interest / Hobbies:
cooking, hiking, camping, skiing, playing piano & uke, listening to all types of music (mobile DJ in college), painting & drawing, traveling, wine tasting, reading, and watching kung fu movies – and sharing these activities with my husband, siblings, and friends