Parenting Training Class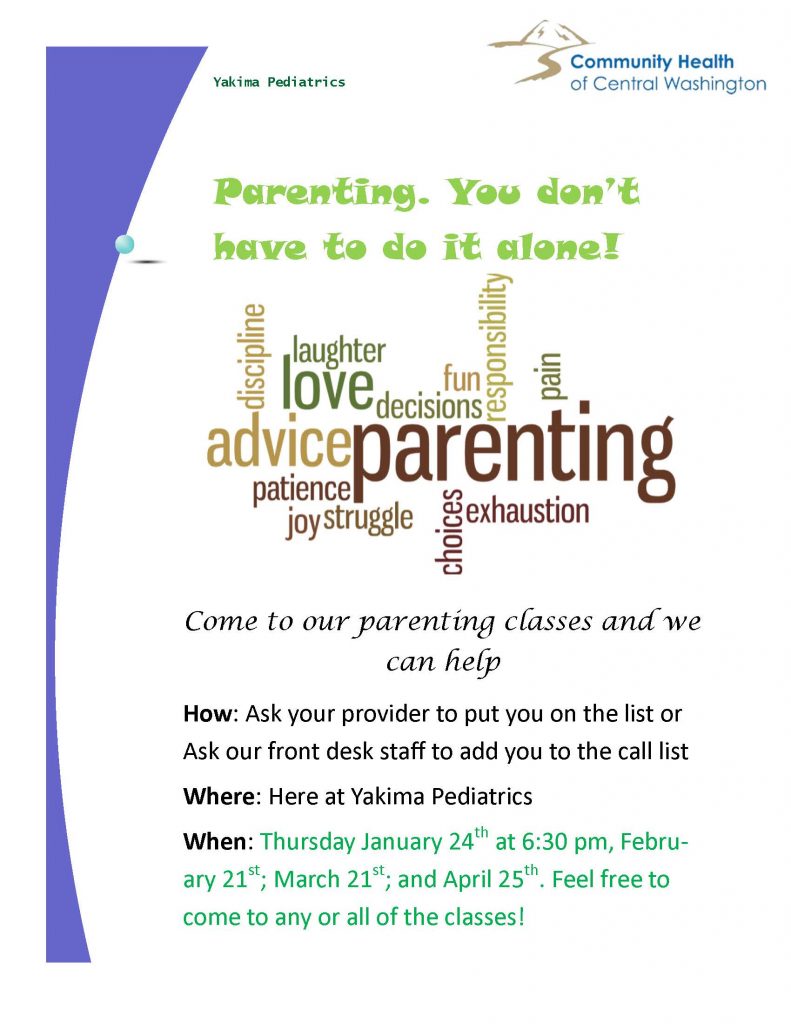 Parent Training Class FAQ:
How do I participate?
Ask your provider to refer you to the class

Ask the front office staff to add you to the call list
After I am on the list then what?
Amelia will call you the week of the class as a reminder to give you date and time and check if you are still interested
Do I have to go to all the classes?
Feel free to come to all the classes or any of them. It is up to you. Classes may mention components from previous classes but you do not need to attend them to follow along
What does it cost?
It's free to any parent of a Yakima Pediatrics patient
What are the topics of the classes?
First Class (January):

ABCs of Behavior, Motivation (Can't do or won't do?), Reward vs. Bribe, Reinforcements (what and how), House rules/expectations

Second Class (February):

Bring out the Reinforcements! Managing Whining, Nagging, Interrupting, Crying, Tantrums, Our Own Stress!, and Time Out.

Third Class (March):

Let's get your opinion

Possible topics: how to help your child with anxiety/ depression; how to work with the school for a 504 or IEP; Sleep hygiene; cyber safety; Teen focused behavior strategies

Fourth Class(April):

What do you feel would be a good topic?

Possible topics: how to help your child with anxiety/ depression; how to work with the school for a 504 or IEP; Sleep hygiene; cyber safety; Teen focused behavior strategies