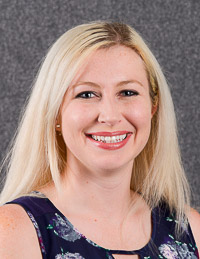 Degree: Doctorate of Clinical Psychology, Masters of Marriage & Family Therapy, Certificate of Neuropsychology
Title: Behavioral Health Consultant
Where did you complete internship? Otis R. Bowen Center in Fort Wayne, IN as part of the Great Lakes Region of the National Psychology Training Consortium
Where did you complete post-doc training? VA Black Hills Health Care System in Hot Springs, SD
Orientation: Bowenian, CBT, Solution-Focused
What draws you to primary care? The fast pace and variety of the work.  I have my regular clinic duties, which are varied in terms of presenting problem, population, individual, group, testing, etc.  Then there are the extras that I can tailor to my interests, such as supervising interns, developing employee wellness events, etc.
What keeps you at CHCW? The people I work with are passionate, dedicated to our patients, and we can laugh and have fun together through the day.  The company is here to invest in people who invest in it.  Unlike other places of employment that only take, this company sees its success as a team effort and invests in building all of us up.
 What do you like about the Yakima area?  The variety of things to do.  In case it wasn't apparent before, I crave diversity in my activities and the valley offers that, whether it is camping, hiking, outdoorsy stuff or laid back eating, drinking, watching games, it is all here.  Plus, Seattle is not that far for a quick get away without the expense of living in a large city.
What do you do for fun?  My husband and I will go camping, hiking with our dog, and go to restaurants/wineries/breweries with friends.
Research interest:  Neuropsychological assessment with diverse populations and wellness initiatives in combating employee burnout and turn-over
 Last three articles/book chapters? 
               Olmer, R., & Brown, K. S. (2016).  Divorce Mediation.  In C. L. Shehan (Ed.), The
Encyclopedia of Family Studies.  New Jersey: Wiley-Blackwell
Olmer, R., & Brown, K. S. (2016).  Involuntary Childlessness.  In C. L. Shehan (Ed.), The
Encyclopedia of Family Studies.  New Jersey: Wiley-Blackwell
Last three presentations?  Suicide Prevention, Cultural Context and Suicide, Working with Couples and Families in Integrated Care