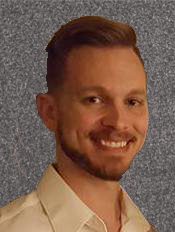 Name: Steven Olmer
Degree: PsyD
Title: Psychologist
Where did you complete internship? Burrell Behavioral Health in Springfield, MO
Where did you complete post-doc training? Otis R Bowen Center in Fort Wayne, IN & the VA Black Hills Health Care System in Hot Springs, SD
Orientation:  Solution-Focused, CBT, and Interpersonal
What draws you to primary care? The variety of experiences that primary care offers in a day and the ability to work with a team of different professionals to treat individuals in multiple aspects of their well-being.
What keeps you at CHCW? I enjoy working together with CHCW as a member of Yakima Neighborhood Health (a separate clinic) because they share the investment in the patients they treat.
What do you like about the Yakima area? It's located in a way that gives me the opportunity to quickly travel to larger cities and events while still allowing me to have a calm and more relaxing environment when I need one.
What do you do for fun? Trying out different restaurants in the Yakima area and seeing the different natural settings that Washington has to offer.
Research interest: LGBTQ populations and Couples
Last three articles/book chapters?
Olmer, S., & Brown, K. S. (2016). Native American Families.  In C. L. Shehan (Ed.), The
Encyclopedia of Family Studies.  New Jersey: Wiley-Blackwell
Last three presentations?  Suicide prevention, Working with Couples and Families in Integrated Care, Brief Youth Interventions