Yakima Pediatrics is excited to inform the CHCW family of the opening of the Teen Health Clinic in May 2017!
We look forward to providing this service to the adolescents in our community, and serve their specific age-appropriate needs. Furthermore, we seek to provide continuity of care that strives to honor attributes of confidentiality conferred upon adolescent populations, while promoting self-efficacy and strengthening familial relationships in the pediatric primary care framework. With its provision of services and resources, we envision that the Teen Health Clinic will bridge some of the gaps that exist within management of adolescent reproductive, sexual, and mental healthcare in our community.
The Teen Health Clinic will be open Wednesday and Thursday afternoons from 11:30am-8pm. We will serve all patients ages 13-18+, from all demographics and backgrounds. We will provide comprehensive primary care services, with developmentally-targeted emphasis on reproductive and sexual health, and mental health evaluation and support. We will accept all referrals to our clinic, provided that we are able to register patients in a manner in accordance with our clinic's documentation of service policies.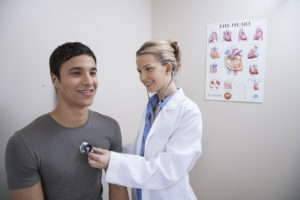 Young adults need specialized medical care and a doctor with whom they can discuss anything, from acute and chronic illness, health maintenance and preventive care, sexual concerns and emotional problems. Their parents also need special guidance and support through these years.
At the Yakima Pediatrics Teen Health Clinic, we provide routine comprehensive health care for teens and young adults, in a non-judgmental safe space. We want to work with you and your family to meet all of your health care needs – e.g. physical, mental and emotional – and to help you in making the best choices for a healthy future.
The Yakima Pediatrics Teen Health Clinic offers teens the opportunity to see and be treated by a doctor or nurse practitioner independently and in privacy. Washington State law permits that some services are offered to teens privately. We ask parents to leave for part of the interview, for confidentiality and to build trust. We also encourage the teen to discuss important issues with parents. It is important to know that if your teen is doing anything to hurt themselves or others, or if someone is hurting them, we will be forced to break confidentiality.
With the advent of the Teen Health Clinic, we hope to further CHCW's emphasis "access to quality healthcare through service and education." We seek to provide compassionate, non-judgmental, and impactful primary and mental health care to all members of the various communities we serve.