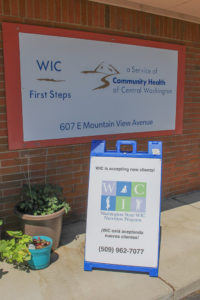 How WIC Helps
WIC helps by improving the health of nutritionally at-risk low-income women, breastfeeding moms up to baby's first year, infants and children. WIC services are provided at no cost to recipients.
Who WIC Helps
Pregnant Women
Moms up to 6 months after baby is born, if they are not breastfeeding
Breastfeeding moms up to baby's 1st birthday
Babies up to their first birthday
Children from age 1 up to their 5th birthday
Dad, grandparents, and other caregivers of children under the age of five may also sign kids up for WIC.
What WIC Provides
Nutritious Foods
Nutrition Information
Breast Feeding Support
Healthcare Referrals
Community Program Information
Information about upcoming family events
WIC Eligibility Requirements
Click here to look at our eligibility guidelines
Call us to schedule an appointment! – (509) 962-7077