Required Assignments and Time Commitment
Interns are expected to complete 2000 hours over a 12-month period.  Interns are asked to participate in orientation one day prior to their official start date. To make up for this time, interns will be provided with one "comp" day in addition to the allotted PTO.
Our clinics are open late (until 8:00pm) five evenings per week and interns may be expected to work one late shift per week.
| | |
| --- | --- |
| Required Assignments | Time Commitment |
| Patient contact | 10-20 hrs./week |
| Individual supervision | 2 hrs./week |
| Experiential Learning and Group Supervision | 4hrs./week |
| Self-Directed Journal Review | 2 hrs./week |
| Critical Analysis | 1 presentation/year |
| Scholarly Project | 1/year |
| NPTC Didactics/Professional Development | 8-10 hrs./month |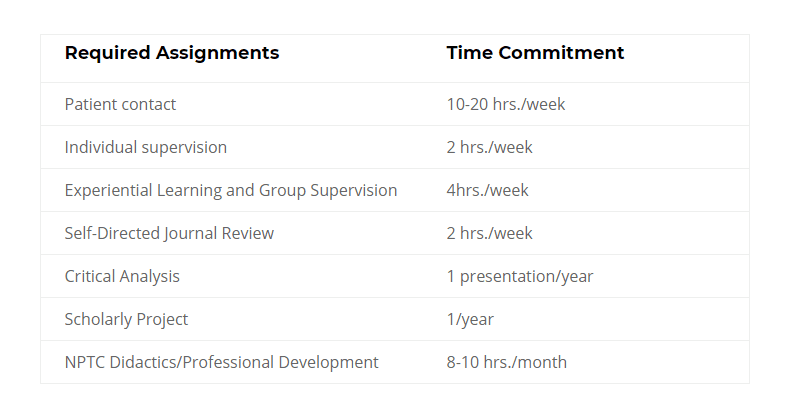 Example Schedule for Interns:
| | | | | | |
| --- | --- | --- | --- | --- | --- |
| | Monday | Tuesday | Wednesday | Thursday | Friday |
| AM | YP | PPW | YP | SUP/PPW | CL |
| PM | YP | CL | EL | GRP (1st)/CL  | YP |
CL = CWFM clinic, YP = YP clinic, PPW = Projects/Self-directed Journal Review/Paperwork, SUP = Individual Supervision, GRP = Group, EL = Experiential Learning/Group Supervision

| | | | | | |
| --- | --- | --- | --- | --- | --- |
| | Monday | Tuesday | Wednesday | Thursday | Friday* |
| AM | CL | NMC | CL | SUP | CL |
| PM | CL | NMC | EL | CL | PPW |
CL = CWFM clinic, NMC = NMC clinic, PPW = Projects/Self-directed Journal Review/Paperwork, SUP = Individual Supervision; EL = Experiential Learning/Group Supervision, GRP = Group

| | | | | | |
| --- | --- | --- | --- | --- | --- |
| | Monday | Tuesday | Wednesday | Thursday | Friday* |
| AM | YP | YP | CL | NMC | CL |
| PM | PPW | SUP | EL | NMC | CL |
CL = CWFM clinic, YP = YP clinic, NMC = NMC clinic, PPW = Projects/Self-directed Journal Review/Paperwork, SUP = Individual Supervision; EL = Experiential Learning/Group Supervision, GRP = Group